As İletişim Yazılım, we are a company which has offered smart software solutions to all companies for managing their business prosesses and for controlling. İletişim Yazılım has offered flexible solutions as according to requirements of companies by innovative technology.
In this way, with our 26 years of experience we have gotten  strong references at food, automotive, textile, defense industry, machine, plastic, medicine, steel, aluminium, rubber and some service sectors. We have collected datas automatically or manuel from production areas.
İletişim Yazılım who takes part in lists of 'Solution Provider' and 'Vendor Solution Directory' of MESA International which creates MES system's standard, is succeed to be precursor mark about subject of MES systems in our country as 'MES Product Survey 2016'.
İletişim Yazılım also takes part in survey of 'Informatics 500 Company' which is done by BTHaber and M2S. It takes part  81. 'Domestic Manufacturer – Software based inTurkey'.
İletişim Yazılım gives KOSGEB support within information systems.
İletişim Yazılım is accredited within TURQUALITY.
İletişim Yazılım takes part as 'Sufficient Partner' in list of Havelsan Business Partner.
İletişim Yazılım is a solution partner of Microsoft as Microsoft Gold Partner.
İletişim Yazılım has 'Domestic Goods Certificate' , 'Technologic Product Control Certificate', 'Industrial Registry Certificate', 'Service Competence Certificate'.
As a result of the Industrial Competency Evaluation and Support Programme evaluation by the Defense Industry Directorate, İletişim Yazılım received B score certificate in the category of Original Product and R&D Studies (ES-301).
Also İletişim Yazılım has been R&D Center on December in 2018.
İletişim Yazılım Centre and RD office is in Bursa. At this work İletişim Yazılım has 23 engineers at all 44 personnels which occurred diciplines of industry engineering, electrical-electronical engineering, computer engineering, statistics, physics . Also there are 30 seller in İstanbul, Bursa, Ankara, Tekirdağ, Kayseri, Egypt.
We have gotten strong references with projects which we did at automotive, food, textile, defense industry, steel, aluminium, plastic, rubber, medicine, service sector with 26 years experience
CoralReef Manufacturing Execution System
With CoralReef® Manufacturing Execution System (MES);
You can follow all process till exit from entry of material in production area, you can follow production online with reality time datas which collects from machines, you can get performance values based on Product/Machine/Personnel, you can control your costs, you can analyse OEE, PPM reports and you can do cost accounting by integrating with your ERP system.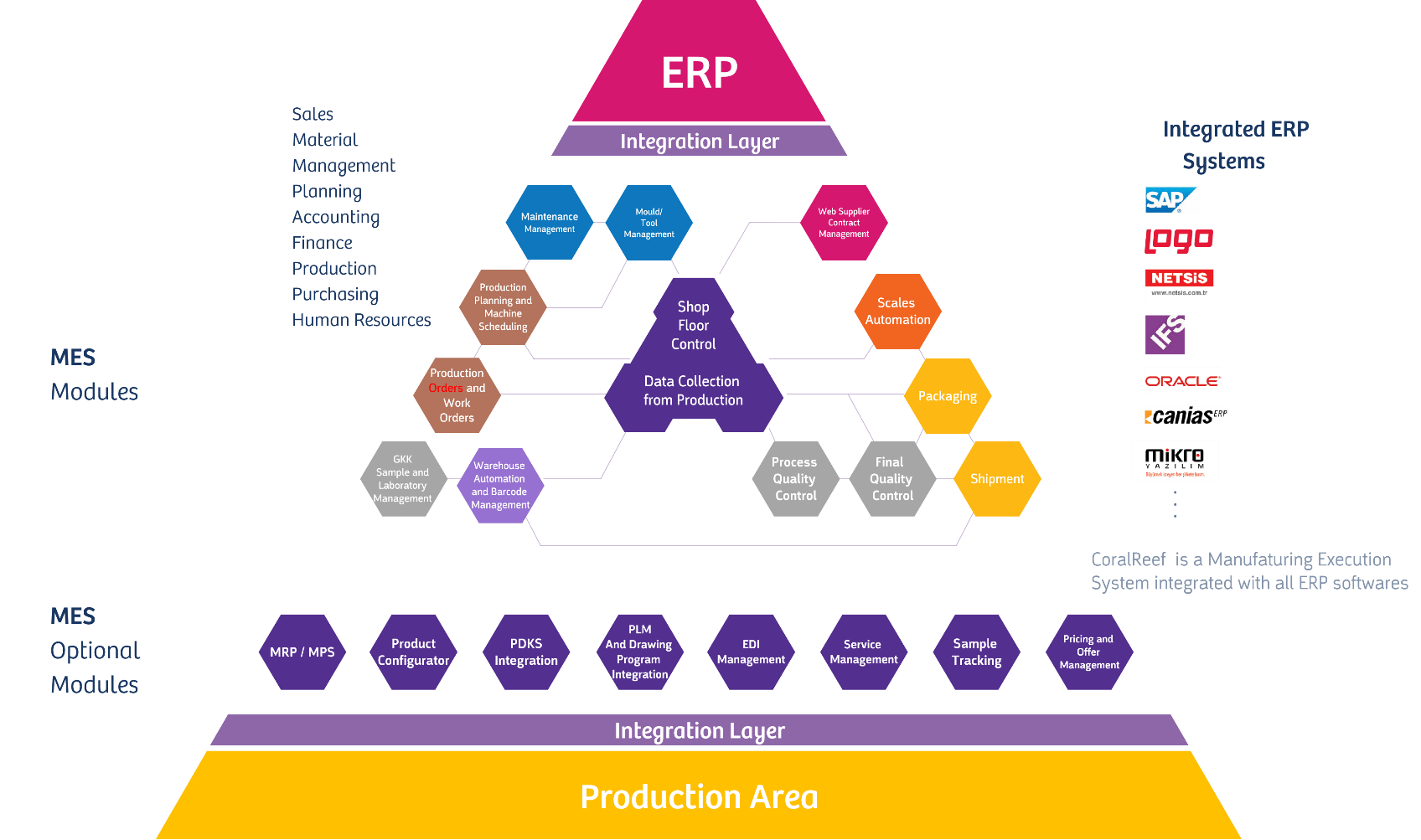 CoralReef, is a MES System which collects datas manuel or automatically from all process from material entry to product out. And it measures performance based on machine, personnel, product. So, İletişim Yazılım aims to services factories which needs the parameters. Our main expert subject is 'manufacturing'. Software is at  C# language. Thanks to special framework it provides flexible screen designing, reportings. In production area it provides to entry datas with Industrial PC, Kiosk,Tablet, Hand Terminal, Barkod Integration. From the system, sms, e-mail can be taken at special criterias..
Thanks to this system, manager can follow production area on manager control panels. OEE analysis, capacity analysis, stopped analysis, wastage analysis can be taken from the system.
TECHNOLOGY OF CORALREEF
Support of relational database,
Support of MS SQL server 2008 and over,
Support of multiple language,
Support of user defined rule,
KPI(Key Performance Indıcator) and Dashboard applications,
Integration with Office program.
Can be done report particular user,
Sending reports via E-Mail
Pivot Reports,
Supoport of view, procedure and function.
Authorization based on report,
Graphical reporting
TARGETTED BENEFITS
Integration with ERP
Integration with Barcode
Comparison Analysis of Standard Actual
Quality Management
Analysis of Capacity Usage
Cost Accounting Data Management
Incoming, Process Final Quality
Cost of Labor and Energy
Maintenance Management
Cost Analysis With an ERP System
PPM Analysis
OEE Analysis
Productivity
Traceability based on Product, Workorder, Machine, Personnel.
Stopped Analysis
Wastage Analysis
Following Fason Processes
Use of Capacity Analysis
Shop Flor Control
İntervention with E-Mail –SMS information
System works integrated with PLC's. So, Datas can be collected automatically from machines. If PLC communication is not open, we can place our own PLC panels on the field and get signal points. Otherwise Datas can be collected with sensors, lights of machine, RFID or the hardware. For this, a editing has created.
It is among the benefits with ERP integration aims to make real actual cost accounting.
It can work with all ERP systems.
ManageMind Strategy and Quality System (BPM)
With ManageMind which is a Strategy and Quality Management System;
You can create organization culture in your company, you can follow process by creating process maps, you can manage quality documentation and you can follow KPIs(Key Performance Indicator) and the most important all forms of company can be designed an reported by the users.
ManageMind is both Windows and Web application.
TARGETTED BENEFITS
KPI Analysis,
Personnel Task Assignments,
Project Management,
Education Management,
CRM Management,
Documentation Management,
R-D Center Management,
Survey Management,
Human Resources Management,
Production Documentation Management,
Sales and Marketing Management,
Asset Management,
Project Management,
Following process with workflow,
Intervention with E-Mail –SMS information
Operating Systematic
In ManageMind BPM, the process begins with the design of the form prepared by the user. The report and dashboard etc. editing can be designed separately just after the design is formed and the process is designed and data entries are made.
This product, developed with flexible architecture, aims to create a paperless office. You can manage all your processes, monitor your key performance indicators and extract all the reports you need via the system with unlimited form support.
İletişim Yazılım has provided flexible solutions by following technology innovations with 23 engineers at all 44 personnels.
Whatever the existing ERP in the company, our products can integrate with ERPs.
İletişim Yazılım, offers solutions that support the needs that ERP can not match in production.
The products are flexible solutions that can work independently in each sector.
Report designs, screen designs can be done without the need of software knowledge.
With the innovations brought by the technology, When the brand, model etc. of the equipments are wanted to change, the products can work with the system compatibly.
İletişim Yazılım offers hardware independent brand name solution for PLC integration and manual data collection